Thank you so much for this amazingly fast action!
Renata's Art & Framing
Thanks so much, just to let you know received yesterday afternoon, perfect as expected.
Helen
Amazing!
Akira
Van Uffelen Framing LTD
I have just placed my order on the best web-site system I have ever used (and I have used very many). Very well done! Thank you.
William
Oh, that looks fabulous.
Leanda
Awesome, thank you so much!
Jen Lawton
I am very very happy with it, thanks for your good work!
Francois
Thank you Lars. I appreciate you getting this to me so promptly
Samantha
Thanks so much Lars– much appreciated. Super service
Jo May Design
Massive thanks!!
The framed print arrived today and it looks awesome. Thanks for doing such a great (and fast!) job at this very busy time of year, and for such a reasonable price too.
Helen
Good morning Lars and team,
Our son collected the framed medals you had completed for us yesterday and just want to say thank you for your work- they look wonderful.
Joy
Thanks for the great work you have done with the photo's.
I keep going in to look at them– very pleased.
Alice
The matboard arrived yesterday- superb, thanks.
Regards,
John Casey
Silver Image Photography
Hi Lars
Just got the poster today (Saturday, Aug. 5th). Better than what I remembered. Absolutely perfect for the place I have for it. I'll have to send you a picture of it after I get it framed. Thanks again. Pleasure working with you.
Gary
Van Uffelen Framing LTD
Thank you so much for your help.
Sincerely,
Lisa.
Thanks Lars
I am very happy with what you did for me.
I shall come in and pay within the next day or so.
Nicky
Hi Lars
Thank you so much for your efforts and communication. It is very much appreciated.
Regards,
Linda
Hi to everyone involved with getting my family tree project organised, framed, and posted to Switzerland for me.
What a great job you have all done and I'm so pleased to be able to say that our granddaughter received the finished article yesterday.
Thanks so much for being so helpful, keeping in touch with me, and going beyond your call of duty in getting it here.
Thanks Lars.
Have forwarded to Finance Team for payment.
The family loved the framed medals so thank you hugely for the quality of the work.
Cheers,
Ian
Thanks for the efficient service! Mirror looking good- makes a huge difference to that entranceway.
Warm regards,
Kristine Barber
Yes great thanks again. I will be in touch soon then to arrange sample corners, matts, glass as discussed.
Looking forward to offering my clients some more luxurious options.
Tess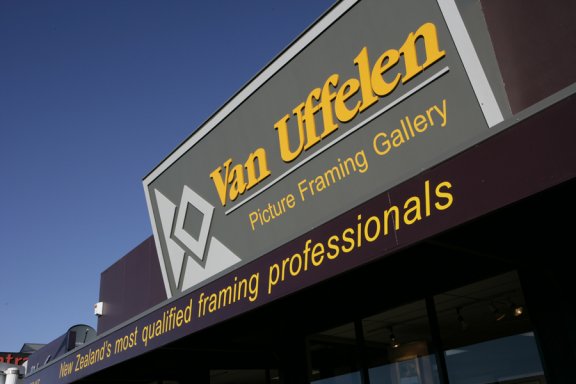 it all packaged and sent for me. I could not have asked for more.
Truly appreciative of all you have done – thanks a million
Anne Horne.
---
Hi Lars - received my copy of the framed photograph today - Brilliant work - very tasteful and high quality.
Thank you.

Martin Hookham
Korokoro School Principal
---
Hey Lars!
Oh my gosh thank you so much!!!
I'm so so so grateful. I'm sure it was quite difficult to get right so I'm very appreciative of the time spent on it.
YAY THANKYOU!!!!
Bonnie
---
10/6/16
Thank you so much for pointing us in the right direction.
---
I have just collected the James' framed medals from Van Uffelen Gallery - it looks really amazing and I'm sure you will love it!
---
15/5/16
Hi Lars
Thank you for sending the invoice and for the minimal charge. We appreciate your generosity. I have paid the amount to your bank account online today. We are very happy with our art works thank you. I have another couple of smaller projects which I will be bringing in during the week.
With regards
Judith
---
16/4/16
The Klimt looks fabulous. Thank you for all your creative work
In brief,
Ben
---
20/4/16
Good morning Lars
We love the results, thank you very much for your work.
Andrew will sort the invoice tomorrow when he is back in if that is okay.
Kind regards
Dayna Cargill on behalf of Andrew Berry
---
Hi there
I just wanted to send a quick note to say thank you again for framing our All Blacks jersey for Big Rigs which was held on Sunday. The auction was a huge success and we sold the jersey for an amazing $4000.00 to which I don't believe we would've got anywhere near this if you hadn't have framed it for us so thank you very very much
Kind Regards
Wendy Stewart
Sales Support I Mainfreight Limited
---
24/2/16
Yes very happy thank you Lars
Julie Miller
General Manager
Te Manawa Family Services
---
17/2/16
Hi Lars
No need to apologise for the delay - the frames arrived yesterday and are perfect. The service you provide is great and I will be using you again for other frames!
Pauline
---
19/11/15
Hi Lars and Shannon,
Thank you so much, the frames arrived safely, beautifully packed, all intact. I am delighted with how they have come out, thank you!
I'll be looking to get some more stuff done shortly..!
---
Francois


30/10/15
Hi Shannon,

Thanks for the email,yes very happy with how it came out thank you very much.I still have another one here,which I will send through in another month or so.
Again thanks so much.
Regards,
Nathan Gee
---
16/10/15
Hi Lars and Shannon,
Thanks so much for the frames…they look great!
Have a good weekend.
Regards,
Paul
Photography Lecturer Ucol
---
4/10/15
Hi just to say thank you very much for the picture hooks which arrived last week very promptly.
I would also like to say that the service, advice, picture and frame restoration and packaging for courier was excellent and would certainly recommend your business to anyone.
Again, thank you very much.
Regards
Ginette Luxford
Oratia, Auckland&
---
30/7/15
Great – Thanks Lars..
I will keep you in mind for future relevant jobs.

Best Craig
Fleetcor
---
28/7/15
Hi Lars
Yes they are very impressive – good job.
Kind Regards
Hannah Sporle
PA / Comd Assistant
HQ 2 CSS Bn
---
10/7/15
Greetings Shannon.

I was delighted to see that you have featured our 'Stoodley Christening Gown' in your latest newsletter.
It has a home at last! It hangs in our hobby room alongside my sewing corner and has already been much admired. It is great being able to see it every day.

We were very glad that it travelled to Rangiora without damage. I had asked the packers to make sure that it was packed right way up. When we unpacked, we discovered that it had travelled upside down all the way!!!! But in perfect condition! Whew!

If you have time, could you please remind me of the correct way to clean the museum glass when it becomes necessary.

Thanks again for the beautiful work that has made our gown 'come to life' again.

With appreciation,
Sincerely,
Miriam Watson.
---
13/6/15 Hi Lars

thank you for doing an excellent job on framing our rug- we are very happy with it

Regards
Judy and Garry
---
8/6/15 Hi Lars
L.G loved the pennant and how it presented. Other members of Squadron were also impressed. Thank you very much for your fine work. It is now proudly displayed in his office.
I look forward to working with you again in the future.
Regards
Paul
---
Good morning Lars
Just wanted to say a big thanks for the fine work you created framing the pennant. LG was very pleased with how it turned out when he received it.
Thanks again
Regards
Paul
---
Hi Lars, I picked up the framed picture at lunch time, the frame looks amazing.
Thanks a lot, great job.
cheers
Jeremy
---
They absolutely loved it mu, was so excited that the frames matched she didn't even look at the map.
Thanks so much
Rachel
---
Hi Lars,
Absolutely they love it and were completely blown away. It will look very good hanging at their new warehouse. Thank you very much for both your quality work and also the speedy turn around. We will definitely use your services again in the future

Kind Regards
Tiare
---
Hi Lars,
That's fantastic! If it can be delivered today that would be great, otherwise Monday is fine too as they are not open Saturdays.
Appreciate the fast turn around - great service
Thanks
Kind regards
Tiare
---
Billy Gist
Branch Manager at Central Group Forklifts
---
Hi Lars,
Thanks for the follow up, they are both on the wall in the TV room and look great thank you.
Awesome thanks
Will collect today :)
Have all logos done :)
Keli LeckMcDonalds Manawatu
---
Hi
thanks for the reframing/setting of our Castlepoint Photo.
It arrived safe and sound and looks great from all angles.
Ross and Julie
---
Yes, it is great. Thanks very much for that.
Regards
Lewis
IMPRESSIONS
Picture Framers & Art Supplies
11a Sundial Square
Richmond
Nelson 7020
www.impressionsnelson.co.nz<
---
Hi there
The frame is perfect...thank you!!!!
Joan Desmond
---
yes great all good, thanks so much.
Have a nice xmas
Toni

Foxglove Frames
Toni Grass GCF
---
Thank you the order arrived, and my dad loves it!
Best
Sophie
---
23/712
Hi Lars,
Thank you! I'm glad you enjoyed seeing some of my work. It would be my pleasure to list your framing gallery amongst my recommended services, especially considering the outstanding service that you and your team gave on my recent order!
I really did appreciate it, thank you - my stand at the expo simply would not have happened without those beautifully framed photos.

steven@stevensandbrookphotography.co.nz
www.stevensandbrookphotography.co.nz