About Van Uffelen Framing
The Van Uffelen family have two generations' worth of experience in providing the highest quality solutions for your framing needs.

Our framing staff hold the coveted Guild Commended Framer qualification, so you can rest assured that your artwork and treasures are in the safest of hands. We follow both the Fine Art Trade Guild and the Professional Picture Framing Association codes of ethics and framing standards.

Whatever your requirements, we promise to find the most appropriate framing procedure and materials required within your budget and needs.

Lars and Shannon and the Framing Team are here and ready to assist.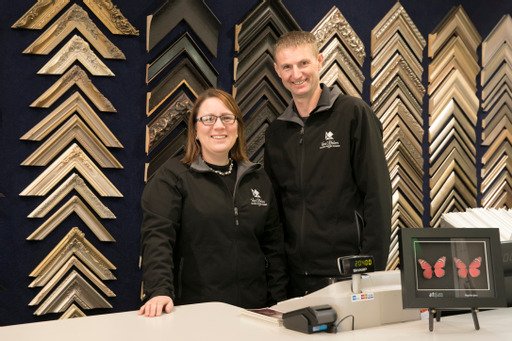 History
The Van Uffelen picture framing business first started in the Netherlands with Mr Rob Van Uffelen. Then in 1985 he and his wife Grietje and teenage sons Kai, Lars and Niels immigrated to New Zealand.
The Van Uffelen's purchased an existing picture framing business situated in Dahlia Street Palmerston North. In 1993, due to the ever-increasing business growth and workload, made the shift to larger premises in Princess Street where they continue to trade today.
Their sons each took a part in working in or on the business over the many years since. Each honing their individual skills. Lars took a particularly interest in taking the framing business to a stronger new level.
When Rob and Grietje Van Uffelen eventually retired the business was succeeded by Shannon and Lars Van Uffelen who continue to build on the same values.
The Business Today
Van Uffelen Gallery and Picture Framing prides itself in stocking one of the widest sample collection of mouldings in New Zealand. Customers come from afar to be assisted in choosing the right combination to showcase and protect their artwork.
Quality Products and expert workmanship are paramount in achieving a superior custom framing result. We work tirelessly to continually acquire and pass on knowledge.
Van Uffelen focusses on exceeding client needs and maintaining high levels of customer service. We achieve this by actively keeping abreast of current trends within the industry, implementing software and computerised systems as well as utilising modern tracking and logging techniques of client product.
Today our customer base is nation and sometimes worldwide, such is the reputation of the work our company produces. It is this name and quality that we wish to offer to all who come and connect with Van Uffelen Gallery and Picture Framing.