Gilding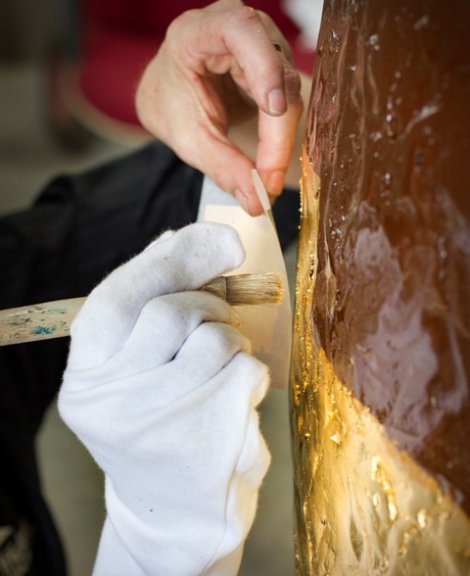 Change it....Gild it...
If you want to bring live and lustre or even that antiqued look back into your project then we can help. We have experience in gilding Frames, Matboards, Inlays and objects.
There are two types of leaf, genuine and imitation.
These are available in Gold, Silver, Copper and Variegated.
Both can be applied using an oil size or an acrylic size. Generally an oil size will give a harder more durable finish, best used on large items or when doing a full gild on picture frames.
Acrylic size is great for small projects and touch up work, after a replacement ornament has been added, for example, and we are colour matching new to look old.
Gilding the lip edge of an old frame can give it a whole new lease on life, and add the wow factor to your framing.
At Van Uffelen Gallery & Picture framing we have applied gold leaf to many projects both new and restored
Just remember just about anything is possible with skills and imagination.
Please don't hesitate to contact us, to discuss you ideas, we are more than happy to help. 0800 712 887