About Van Uffelen Framing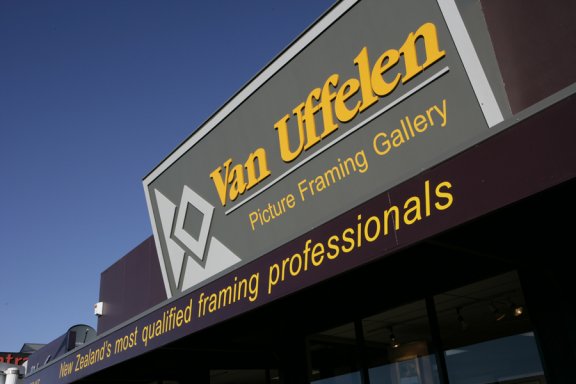 The Van Uffelen family have two generations' worth of experience in providing the highest quality solutions for your framing needs and lead a qualified framing team. Whatever your requirements, we promise to find the most appropriate framing procedure and materials required within your budget and needs.
We're proud to be a highly qualified framing team, and as our framing staff all holding the coveted Guild Commended Framer qualification, you can rest assured that your artwork and treasures are in the safest of hands. We follow both the Fine Art Trade Guild and the Professional Picture Framing Association codes of ethics and framing standards.
We're trying hard to do our bit for the environment. Here are a few of the ways in which Van Uffelen and Picture-It keep this corner of Aotearoa New Zealand clean - you'll also notice the "Eco-Friendly" sticker on many of our renewable and Eco-friendly frames.
We recycle all cardboard packaging.
All Bubble Wraps and Large plastic Packaging gets upcucled by local businesses
Material offcuts are passed to local Learning institutions, kinder gardens and pre-schools.
The use of energy efficient heating and lighting.
To reduce transport energy use, we use locally produced materials when we can.
We use environmentally friendly mattboards and backing boards
We stock frames from timber harvested out of responsibly managed forests
Off cuts get reused as fuel to heat our homes.